What is Softwash Render Cleaning?
Render Cleaning
Render is widely used in the UK, particularly on new build houses big contemporary structures, however the producers of render urge that it be cleaned every now and again. Swansea Render Cleaning  is a render cleaning specialist, providing dedicated render cleaning services for all types of render. The colour of the render will appear to fade if it is not cleaned on a regular basis. This is because render is prone to being contaminated with algae, mosses, fungus and lichens, all of which stain and detract from the look of a home or business. Most people just do not know that you can remove stains from render in an efficient manner. A lot of people start painting over the organic growths thinking that is the only option.  Painting over bacteria, algae and fungus does not eliminate the problem and will cause the paint to peel if not treated.  
Roughcast and Pebbledash wall cleaning
 Softwashing works juut as well on roughcast and pebbledash walls. It takes a little longer and requires a liitle bit more softwash chemical.  Roughcast is often painted and using the softwash method can remove all the organic growth and black staining.  The roughcast render can be cleaned and restored to it's original colouring.  Pebbledash often grows moss and requires a gentle wash down.  After treating the pebbledash walls it would require a few months for the remaing dead moss to be washed away but rain or rinsing off with a garden hose.  
Remove Red Stains From House  
Algae, bacteria, and mildew discolour finished coloured renderings like K-Rend, Moncouche, and Weber. Staining and discoloration can also be caused by the weather and pollutants. Swansea Render Cleaning uses a low-pressure device to clean render surfaces softly. High-pressure washing of render can cause long-term damage, but softwashing does not affect the building's substrate. A Softwash will restore any rendered surface to its natural form, making it seem newly painted and boosting the kerb appeal and value of the structure. In most circumstances, we may safely restore these surfaces to as new state by cleaning the render.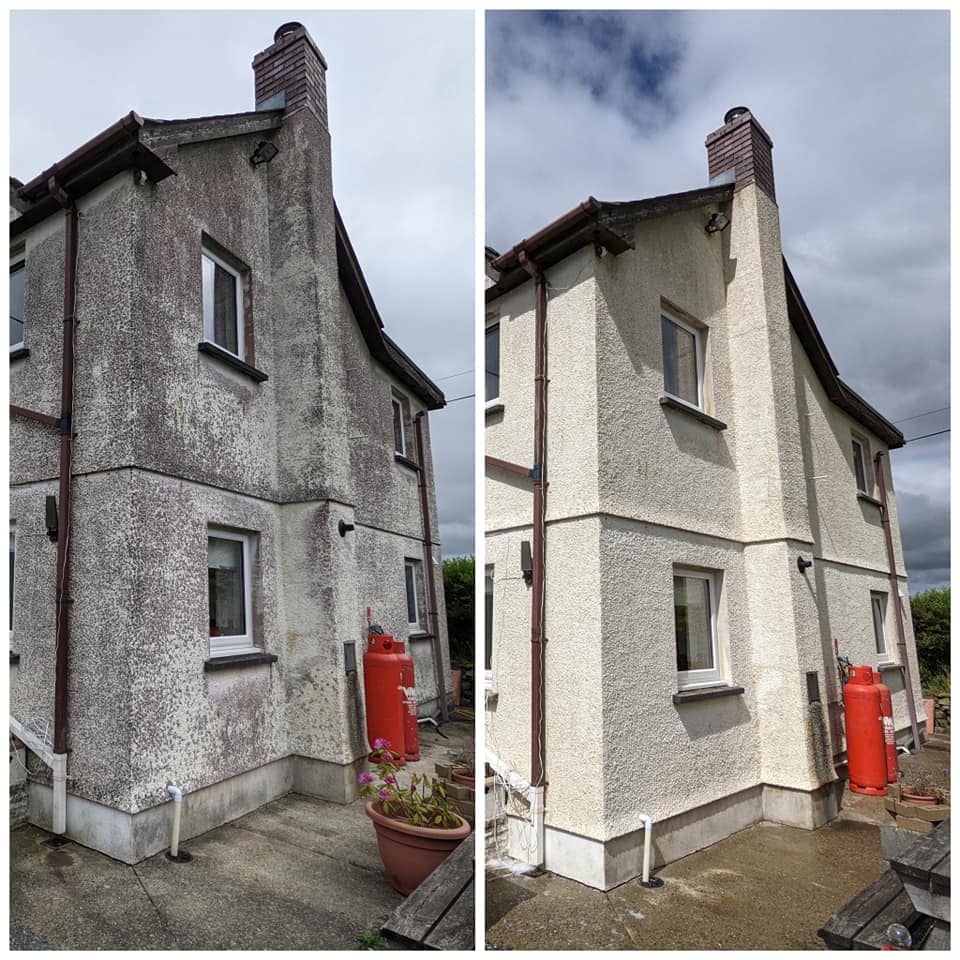 Exterior Wall Cleaning 
Your render is also likely to look worse on the north and east sides of the structure, where there is less natural sunlight. We know that air pollution can damage the render surfaces with broad green stains. This is especially common on buildings near water, since humidity feeds building diseases, and cross contamination produced by spores from surrounding trees or other big vegetation is a contributing factor. These stains are quite unpleasant if left untreated, and they can detract from the aesthetic of a home or company.
Cleaning Organic Growths From Walls
The UK's wet and humid weather encourages atmospheric growth, which is growing quicker than ever on render-finished facades. Attempting to eliminate these organic growths might be difficult. High-pressure cleaning can cause serious harm, and if the organic growths are not properly cleansed, it will return too quickly. Our softwash treatments use softwash render cleaning methods. This guarantees that the structure appears wonderful after washing and maintains its radiance. 
Cleaning painted walls  
Many people believe that re-painting is the only way to fix render stains and discoloration. This is both costly and unneeded. The red stains on the render, as well as the green algae on the render, may be completely removed. Render retains its colour when it is clean! Cleaning K-Rend surfaces is the preferred and more cost-effective method of maintaining them. However, until recently, high-pressure cleaning was the only choice. The aggressive approach blasts moisture underneath the surface of the render, whether using hot or cold water under high pressure, which means organic growths reappear quickly after cleaning. High-pressure washing has even blown render completely off the wall in certain situations!